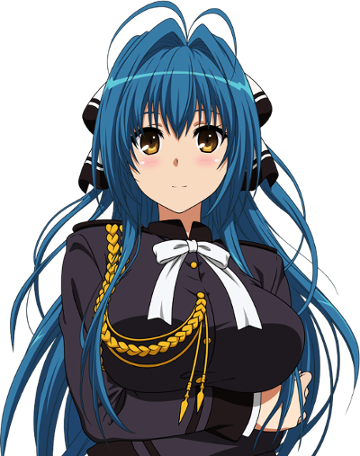 Aqua Cerulea

NAME: Aqua Cerulea
AGE: 18
GENDER: Female
HEIGHT: 5'5" (165 cm)
WEIGHT: ?FACTION:
Zeitgeist Union
APPEARANCE
: Aqua Cerulea is a slim young woman in her late teens, happening to have light, thigh-length bluish hair. She bears a voluptuous figure. She is often seen wearing a dark violet full Zeitgeist ensign uniform. Also to note is her signature black and white ribbon in her hair.

PERSONALITY / TRAITS:
Aqua has a stoic personality. She is very quick to use her fist. Her face is usually expressionless. She finds it hard to smile and is not good at understanding jokes. If she thinks too much, she gets confused with what to say. She comes across as cold and blunt but behind that she is also very sensitive. She also has trouble expressing her concerns to her superior officers which commonly leads to misunderstanding.
She appears to be violent but that is because she is unaware of the "proper" ways to approach and ask help from others. She has little experience with social interactions with people outside the military or just does not have good socializing skills.
HISTORY: Aqua Cerulea is the daughter of an Earth-based noble family that disagreed with the dated system of rule in the Azure Earth Organization, which made them defect to the Zeitgeist Union as exiles. She was born in the Zeitgeist Union. Her father became a politician in the  Zeitgeist Union with gigantic backing and the capacity to rally the general population so he was named assemblyman, serving Jun Bayao Shiranui in Tres Exodios.
Aqua lost her family to an assassination attempt when she was six years old. She was the sole survivor. During her and her mother's escape, the car had flipped over and exploded killing her mother, it is unrevealed what caused the car's explosion. Aqua was tended to by the Tres Exodios government after the deaths of her parents. She became an Ensign in the Zeitgeist Union Army and initially served as an auxiliary to Lieutenants.