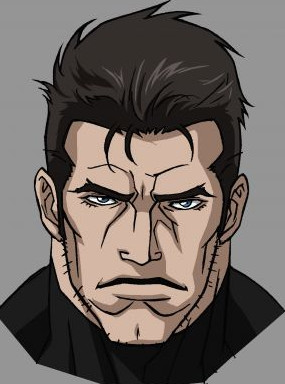 NAME: Jarrad Baker 
AGE: 35
GENDER: Male
HEIGHT: 6'2
WEIGHT: 224 lbs
FACTION: Zeitgeist Union
APPEARANCE: Jarrad has the physique of a man in his prime, with a very fit body and rugged features. Being 35, he has lost most of his youthful looks and instead he has become more chiseled and rough. By this age he has no more of that optimism and has become a stone cold killer, a shell-shocked veteran with PTSD. With no family to come home to, Jarrad prefers the comfort of the mobile suit and the battlefield, always seen wearing a pilot uniform and toting two pistols in combat.
PERSONALITY / TRAITS: Not much can be said about Jarrad except for his grim and serious face that usually scares off younger soldiers. He doesn't want to be placed on reserve. Jarrad prefers the frontlines, trying to murder as much AEO troops as he can. His mind is torn in two, one wherein he wants to be reunited with his family, and at the same time he's still hoping to change the world.
Jarrad's expertise is high speed mobile suit combat, with preference for firearms. He has shown that he had skill with artillery weapons. In fighting, Jarrad prefers to get up close and personal and rattling down the enemy with bullets. 
In spite of Jarrad's tough exterior he shows a mentor-like role to more inexperienced pilots, and when they ask for kills he doesn't take credit. Jarrad wants to teach, that's what. He wants to show the youngsters how to handle a gun, a mobile suit and use that for maximum effect. 
HISTORY: Jarrad Baker is an accomplished pilot and an ensign serving the Zeitgeist Republic. He was born in space, malnourished and his parents thought he would never survive. But Jarrad had the devil's luck and managed to make it through his first year in an incubator. He was a sickly child. 
By the time he was in elementary school Jarrad slingshotted in terms of growth and he grew faster and bigger than other kids his age. He played as a varsity member in the football team and also competed in other sports. His athleticism made him eligible to be drafted into the military of the Zeitgeist Union.
For some time Jarrad dabbled in other affairs like sports and fitness until the time he was called to enlist. Jarrad had already a wife and two sons that time. He was already 25 when he was called to active duty. That was during the start of the War after the death of the AEO chairman Isshin Yaho. Jarrad's family were killed during the war; this pushed him on a path of revenge against the AEO.
In the military, Jarrad showed incredible skill with fire arms. His favorite weapon is the machine gun, and it was a choice of weapon that he would carry on to his mobile suit training. Jarrad became fond of using Prawn mobile suits because of their ability to rapid fire. When he started in the Zeitgeist union he was said to be too old to be a rookie but he had an advantage : mental maturity and adaptability. Because he was older than other recruits, Jarrad was able to show that he can handle tough situations unlike them.