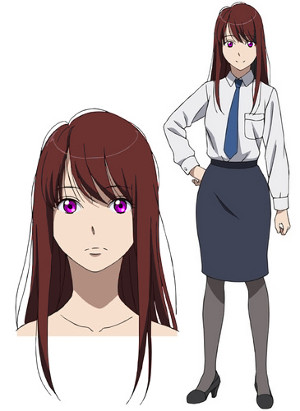 NAME: Macaroni Faust
AGE:
20

GENDER:
Female
HEIGHT:
5'7" (172 cm)
WEIGHT:
110 lbs (50 kg)
FACTION: Azure Earth Organization

APPEARANCE: 

Macaroni Faust is a moderately-tall woman, standing at 5'7" tall and has dark red hair. Her irises are purple. She is assigned to the ground forces and so, her uniform is reflected in her rank as a Chief Petty Officer. Macaroni is serious-looking and appears to be a bit older than her age. She inherits the typical Faust sloping eyes and wide mouth. Her pilot suit, when she is dressed in it, is black.
PERSONALITY / TRAITS:

Macaroni is a what-you-see-is-what-you-get kind of person. Not one to pretend, she is an in-your-face, brutally honest woman. She will let you know what is on her mind and she can be quite decisive as well. As a pilot, Macaroni is a play-safer. She does not rush in blindly nor acts like a hero. All of her moves are well-calculated, and if she does get hit, she has a backup plan.
Regarding her family, Macaroni gets along well with her mother and father. She also has good relationships with her cousins, uncles, aunts and grandparents. Unlike the other Fausts, she does not have a thirst for higher positions in the government. Macaroni only wants to do the right thing, and from her perspective, it is fighting for the AEO, against the Zeitgeist Union. 
HISTORY:
Macaroni's family includes several prominent AEO figures, the most noteworthy being the retired admiral, Vincent Augustus Faust. He is Macaroni's paternal grandfather. Macaroni's father is one of Vincent's illegitimate sons. As such, Macaroni doesn't enjoy the same kind of respect and prestige as those of Vincent's legitimate child and grandchildren.
This was not a hindrance nor an issue with Macaroni. She happy with whatever kind of attention she received from her grandfather, and she was also on good terms with her cousins. As an only child, she often played with them. Her closest cousin is Volker Eginheart Faust.
In fact, her dream of joining the AEO was inspired by her cousin Volker, who had gone on to become famous, reaching the rank of Ensign and even becoming a test pilot for the Beat Gundam. Macaroni decided to start from grassroots beginnings, ignoring her family's privileges and serving as a regular soldier and reaching Chief Petty Officer rank.
As the war got even more heated, Macaroni found herself in even more grueling combat situations. Fighting across the Asian and African fronts, she hoped to find Volker. The last news she heard about him was that he went AWOL along with the Edelweiss crew.