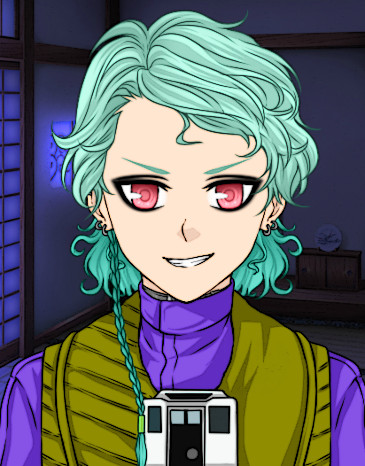 NAME: Jocasta Caliph
AGE: 24
GENDER: FemaleHEIGHT: 5'6"WEIGHT: Unknown

FACTION: Dragon Fang

APPEARANCE: 

Lack of exposure to sunlight has made Jocasta's skin pale. For years she exclusively lived on space, but she is just as adept to it as with gravity conditions. Her hair is sea-green in hue, wavy, and tied in a braid on one side. When her clothes are taken off, her body is covered with multiple scars from gun and knife wounds. People have noted her eyes to be cold and menacing. 


PERSONALITY / TRAITS:

Overall, Jocasta is a boyish-looking girl, and even dresses the part. Tough and emotionally abrasive, Jocasta is a troublemaker. Her life has revolved on violence, and so, she thrives there. She can duke it out with the biggest of men in brawls. The sight of blood excites her, and sometimes she cuts herself just to amuse herself or to pass time. Jocasta uses foul language and obscene gestures.
Interestingly, Jocasta is bisexual. She has never tried to hide the fact that she slept with both men and women. Her favorite prey though is underage girls. Being a sexual predator, she must often use force, if necessary, to subdue her victims. Jocasta derives sick pleasure in sticking foreign objects in the orifices of girls. 
Sometimes, men come in to try take advantage of her. If they are not her type, she quickly makes it known. She has tossed many penises into the airlock, sparing the would-be rapers that she's not the kind they should tangle with.

HISTORY:

Jocasta hails from the poorest sectors of outer space, the slums. She has led a harsh and traumatizing life. Raped by smugglers at the age of 11, and became a prostitute at 12. Tired of being used by men, she learned to fight, shoot, and kill. By 13, she developed a strong bloodlust, a sort of soothing feeling whenever she kills a person. Her fetish became an asset of hers, as she became fearless and direct. Killing and other crimes became her second nature. 
Like a tough cockroach, Jocasta survived the early years of the war. She drifted from place to place, offering her services to the highest bidder. As an accomplished assassin, Jocasta's skills were highly sought after. She had mastered the art of seduction, as well as those of infiltration and espionage. Within the underground ranks, she became known as a reckless, yet methodical killer, using any means to get whatever she wanted.
The lure of treasures and spoils of war led her to the doorsteps of "Dragon Fang", a militant organization that does work for whoever can afford them. She found herself soon enough, close to ones of her kind. Quickly, she became known throughout the network, displaying her talents and establishing her own niche in the group.