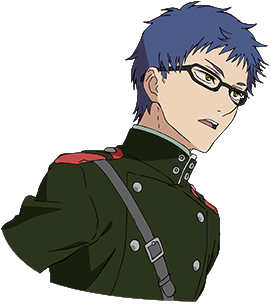 (I think this uniform looks great, so thanks for the suggestions, admins.)
NAME: Fritz Shikai
AGE: 18
GENDER: MaleHEIGHT: 5'9"WEIGHT: 132 lbs

FACTION:  Zeitgeist Union

APPEARANCE:  
A prim and proper soldier, Fritz tries to look his best on any occassion. He is average in stature, and rather ordinary in appearance. 


PERSONALITY / TRAITS:
Fritz, being an ordinary pilot, has no special traits nor abilities. He is a jack of many trades, but a master of none. Because of this he always strives to be recognized by his peers. He can be somewhat insecure, especially with younger pilots or the same ones his age. He looks up to his esteemed comrade, Kain Arrows and wants to prove himself just as good at him. It is not out of envy but genuine respect.
Fritz is very hardworking. He is one of the most industrious young soldiers in his batch, because he has a lot to catch up to. As a result he's nicknamed "worker bee" by others. A man of zeal and devotion, he believes in the Zeitgeist Dream and tries very hard so that he can be a part for the fight for independence.


HISTORY:
He hailed from an ordinary household and has no nobility status to his name. As a commoner, Fritz craved for recognition. When the war broke out, he sought permission from his family to allow him to become a soldier. They were at first, opposed to his idea, but he suggested that he can bring home a better future for them, and they agreed. 
Fritz enrolled at the academy, feeling that he was going to be an excellent pilot. His hope was crushed when he consistently got low scores in piloting, despite his best efforts. It was at that time that he saw his idol, Kain Arrows and sought to become like him. Now that he has graduated, Fritz knew that he still has a lot to prove. 
"They're lucky. They're talented. Well, I'm gonna be like them. Zeitgeist is gonna see my worth!"
-Fritz Shikai