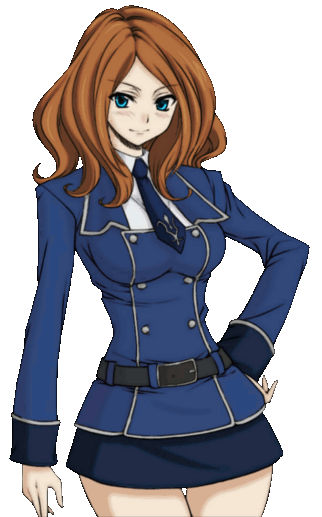 NAME: Dominique Derval
AGE: 19
GENDER: Female
HEIGHT: 5'10"
WEIGHT: ?
FACTION: Azure Earth Organization
APPEARANCE: Dominique is described as being incredibly attractive. She has shoulder-length, light brown hair, fair skin, and cyan eyes. During her days at the AEO Academy, her hair is occasionally wrapped in a ponytail. Following her graduation, she cut her hair shorter to where it was about the length of her chin. For most of her career as an AEO ensign, she is seen wearing the Azure Earth Organization military uniform.
Dominique is tall for a lady, and stands taller than most other soldiers in her batch, even some men. Her big bust size is often a head-turner for both guys and girls.
PERSONALITY / TRAITS: She is very friendly and caring. She's caring, and kind, but she's also dedicated to her duties as an AEO soldier. She can pilot a mobile suit and perform bridge duties on a ship. She has also extensive knowledge on makeup and often teaches other female crew members how to dress more properly.
Dominique also has a vulnerable side that comes out when she is alone. She can be sometimes melancholic and sad. Not many people see this side of her because she wants to keep it to herself. At night, she sometimes just cries herself to sleep, thinking about the man that she loved.
HISTORY:Born into a wealthy family, Dominique is a French beauty who went to AEO's elite school, the Arreneoh University. She later studied acting Broadway. She later met an AEO pilot, who was 6 years older than her, and they dated for a year. Having fallen completely head over heels for him, she loved him with all of her heart. She urged him to quit the military but he was serious about his duty. He was later killed in action and it devastated Dominique's heart.
The death of her boyfriend made her want to continue what he was fighting for. She wanted to serve AEO just like what he did. And because of that, she quit acting altogether and geared up for the life of a soldier.
Joining the AEO wasn't easy for Dominique. She wasn't built for these grueling physical conditions that they put her through. Still she persevered and landed a good spot in the military. As an ensign, she was good at making reports and served aboard several ships. When it comes to mobile suits, she has poor piloting ability but can somehow, provide support/assistance and rescue operations and other menial tasks.