History and Lore: House Magnusson
-by King Brando Magnusson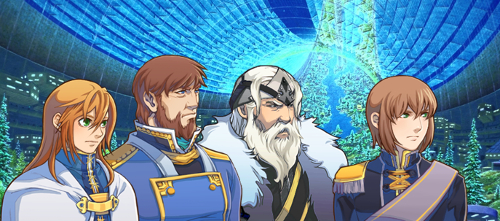 "The Magnussons were the Ancient Kings of Solaris, our line descended from the first settlers from Earth. My ancestors, along with the Antiochs, built some of the very first colonies that soon became known as Solaris. In time, Solaris' population grew stronger. Not long after, the Triskelion Alliance was formed; the Antiochs of Lacour, the Kraussers of Vestiglia, and the De Muracci's of Atenosa. Solaris flourished during this Golden Age, and with it, came the birth of the mobile suits. 

Mobile suits, bipedal humanoid weapons of mass destruction. They saw good use when my ancestors seized several neutral colonies, turning them into states under the rule of the Magnusson Crown. The Triskelion Alliance remained loyal to us, and with their help, we turned outer space into a utopia. 

By the time I became King, sometime in Solstice Aeon 0960... I was a young man. My father Grando Magnusson had just passed away. I married Fassaline Gravebrood, she became my Queen. She bore me three sons: Bertrand my firstborn, Anselm, and my youngest, Lyle. I wanted Bertrand to unite the Houses of Magnusson and Antioch, so I asked him to marry my friend Lord Cinco's daughter, Risa Antioch. Bertrand insisted that he was too old for her, much to my chagrin. He took another noblewoman for a wife. My second son Anselm did the same and married a woman from the Arabelo family. 

Fortunately, my son Lyle was obedient. He found love in Cinco's daughter, and she loved him dearly as well. Though Bertrand will become King when I die, I think Lyle would do a much greater service for the Kingdom than his brother ever would..."
_____I love Mobile Suit Legends_____
-I AM MSL. HERE ME ROAR!-
The Four Horsemen of MSL
BOSSCHIEF...LALIONUS...BRO...ISSHIN

---
Permissions in this forum:
You
cannot
reply to topics in this forum