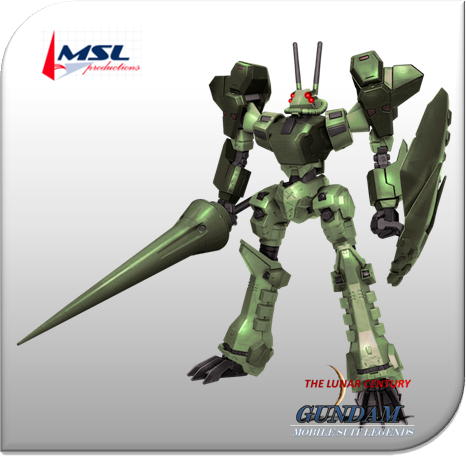 CMS-129 "Locusta"
A CHROME mass-production mobile suit produced at Tres Marias factory, it is the successor to the earlier CMS-06 Prawn. Like the Prawn, and its variants, the Locusta was not a "high performance" mobile suit. Although the Locusta's specs gives it a superior performance to the Prawn, its technology does not "push the envelope" as the mobile suits of the Second Lunar War did. Like the Prawn, the Locusta's design was based on using simple and conventional mobile suit technology. This made the Locusta fairly easy and cheap to mass produce as well as simple to pilot since it does not have any difficult to use features such as a transformation system. In order to increase overall versatility the CHROME Remnants have produced a wide variety of hand armaments that can be used by the Locusta. It is also capable of performing in any environment, but it truly excels in space combat.

RPG STATS

HP: 11640 / 11640
EN: 120 / 120
Move: Ground=5, Water=3, Air=3, Space=5
WEAPONS:

1. Melee Attack (punch, kick, etc)
--PWR: 500
--EN: --
--RNG: 1~1
--TYPE: Normal Melee
--LOCK: 1

2. Heavy Lance
--PWR: 4500
--EN: 12
--RNG: 1~1
--TYPE: Solid Melee
--LOCK: 1

3. Vulcan Cannon
--PWR: 1000
--EN: 6
--RNG: 1~2
--TYPE: BEAM 1
--LOCK: 1

4. Quad-Lance Rifle
--PWR: 1200 x 4
--EN: 20
--RNG: 2~4
--TYPE: Beam 1
--LOCK: 1

5. Tri-Scatter Bomb
--PWR: 2000 x 3
--EN: 22
--RNG: 3~3
--TYPE: Missile 2
--LOCK: 1

ABILITIES:

1. Shield Defense
--Reduce damage by 50%
--USE: 3/3
_____I love Mobile Suit Legends_____
"dream. believe. survive"


B.R.O.

MSL Admin








Number of posts

: 954


Age

: 71


Registration date

: 2009-07-31




---
Permissions in this forum:
You
cannot
reply to topics in this forum